Work That Skirt 45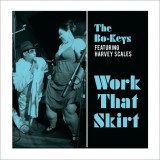 Available as a digital download or limited edition 45 with picture sleeve.
The legendary Harvey Scales joins the Bo-Keys for this single – and the result is one hell of a funky little record! The Keys somehow sound even sharper than before – really great drums that bristle with energy, and a heavy heavy groove that's made even better by Scales' vocals – which have this odd tone from age, even way more soulful than back in the day! "Cracker Jack" is nice too – no vocals from Scales, but lots of romping organ in the middle – played in a real Booker T style, which is just right for this modern Memphis combo!
© 1996-2011, Dusty Groove America, Inc.